Stress Relieving and Relaxation Package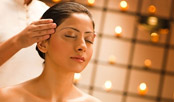 Stress is nothing but uncomfortable state of mind. It is the state of mental or emotional strain. Ayurveda, the "Science of Life. Ayurveda believes this to be Maanas Dosha (mental disorder). There are several single herbs and compounds that give relieves in stress. According to Ayurveda, human body is made of three doshas—vata, pitta and kapha, which are also present in the nature. These three doshas are in constant interaction with each other inside human body.
TREATMENTS INCLUDES
• Abhyangam: - Full body massage with medicated oil proceeded by medicated steam bath.

• Navarakizhi : - Pouch of medicated rice puffed all over the body which will help in relaxation of body muscles

• Shirodhara : - Shirodhara is a unique form of ancient therapy of pouring oil on the forehead from a specific height and for a specific period continuously and rythmatically allowing the oil to run through the scalp and into the hair
And all other treatments as per the advice of the doctor
Kindly note the treatments are subjected to change as per the advice of the doctor according to patient body condition.
Packages available for 03, 05, 07, 14, 21, 28, days packages
Packages are available on the basis of Per Person and Per Couple, with Deluxe / Standard Category
Packages Starting from INR. 16,650/-(Incl. of taxes)
Package Inclusion
Welcome Drink on Arrival
Traditional welcome with Garland & Tikka
Daily breakfast, Lunch and Dinner (Ayurveda veg diet as per advise of the doctor)
Ayurvedic Treatments as per the Package (Daily two treatment as morning/evening schedule)
Daily Consultation With Ayurveda Doctor
Free indoor/Outdoor facility
All govt taxes
Package exclusion
All personal expenses like Laundry,Telephone,Internet,etc
Oral and Internal medicines used for the treatments (As per doctor advise)
(Oral and internal medicines are advised during direct doctor consultation according to client's body condition)
Anything other than mentioned in the above inclusion
CAB Charges
Note:-
Guests availing of specific treatments are advised to bring relevant medical documents of their medical history.