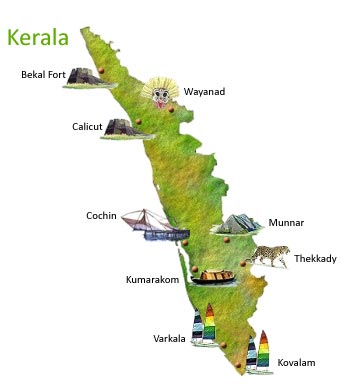 A hundred percent literate people. World-class health care systems. India's lowest infant mortality and highest life expectancy rates. The highest physical quality of life in India. Peaceful and pristine, Kerala is also India's cleanest state.

Kerala is located on the southwestern tip of India with the Arabian Sea on the west and the Western Ghats towering 500 to 2700m on the east. The state is divided into three regions – the coastal lowland, the fertile midlands and the highlands. The lowlands of Kerala are networked by endless backwaters and the deltas of forty-four rivers. The midlands are rich with cashew, coconut, arecanut, tapioca, banana, rice, ginger, pepper, sugarcane and vegetable plantations. The forested highlands abound in tea, coffee, rubber and spice plantations and wildlife reserves.

ompared to other parts of India, the mild tropical climate of Kerala is ideal for tourists almost throughout the year. Population of Kerala is about 30 million and the language is Malayalam. English is widely spoken in Kerala.

Major cities are Thiruvananthapuram (Capital) in the South, Kochi in the Center & Kozhikode towards North.