Kingly Kerala (A Luxurious Tour of Relaxing Kerala)
Day 1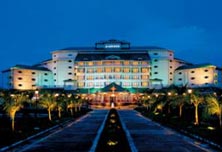 A warm welcome experience at Cochin Airport as our Executive meets the guests upon arrival and escorts them to Le Meridien Cochin. A traditional welcome at the hotel during the check in. Special amenities in room upon arrival. Afternoon at leisure. You may also explore the serene and enchanting landscape of the Resort spread across 18 acres.

EvEvening, enthrall yourself as you visit a local auditorium for a 90 minutes program designed to reflect glimpses of Kerala's multi-discipline culture in a vibrant and colorful manner. Program showcases various ethnic dance forms including the renowned Kathakali and a brief yet stunning performance of Kalaripayattu, Kerala's own martial art form. Overnight at Le Meridien




Day 2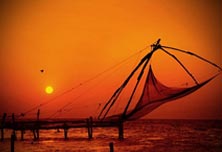 The Dutch Palace built in 1557 and also known for its murals.
The Jewish Synagogue, the oldest Synagogue in the Commowealth,
St. Francis Church built in 1503 by the Portuguese where Vasco Da Gama was buried.
The massive sized Chinese Fishing Nets erected between 1350 and 1450 AD.







You may enrich your trip by shopping some valuable souvenirs at the Jew Town. Back to hotel for lunch. Afternoon free to relax, but in a kingly manner: Sooth your body and soul as you get a pampering and rejuvenating full body ayurvedic massage for an hour or so. On a relaxing day, your body can feel a highly ecstatic laziness for hours after this massage. Relish it as you lay back by the pool side or by the serene backwaters that flow just behind the hotel backyard. Overnight at Le Meridien Cochin.
Day 3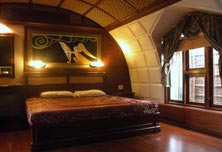 Checkout from the hotel by 10.30am and drive to Alappuzha to embark on an experience that is truly unique to Kerala. Check in at an ultra luxury houseboat by 12 noon and start cruising to know why Kerala is called a travelers Shangri-La. Enjoy the scenes of this languid yet lively countryside as you drift in this luxury vessel. Skim past Chinese fishing nets, bowed down paddy fields, local inhabitants engaged in making coir products, rustic homes and swaying coconut palms.

Beside to the welcome drink & tea/coffee/snacks, your lunch, dinner & breakfast will be cooked and served on board by the in-house chef with an authentic and appetizing Kerala touch (click here for detailed menu). Buy fresh catches from the nets of the fishermen passing by to add more flavor to your exotic dining experience onboard. The boat anchors by 5:30pm. Laying back amidst the coziness of the luxury boat gazing at the stars and listening to the sounds of the backwaters and the surrounding countryside is an experience to cherish lifelong. Night on the Houseboat.
Day 4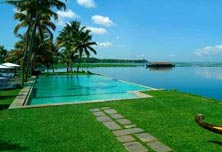 Bid goodbye to the kingly yet homely boat and its caring crew by 9 am, after breakfast, as you disembark at the jetty of the fabulous Kumarakom Lake Resort. Check-in and lunch at the Resort. Afternoon, walk around the premises of this much lauded property which is the perfect symphony of luxury and heritage, nature and culture. Night at Kumarakom Lake Resort.
Day 5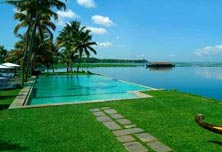 Another mesmerizing day for the nature lovers in the luxurious lap of this Resort. Engage in various captivating activities available within the Resort such as yoga, ayurvedic massage, sunset cruise, cycling, fishing, pottery making, mat weaving and various indoor games (for the full list, pleaseclick here. Night at Kumarakom Lake Resort.
Day 6, Departure
Finally, it is the day to bid good bye to a land that made deep roots in your mind just in a week time. Transfer from the Resort to Cochin International Airport (2 hours drive) for final departure with nostalgic memories that you will sure cherish for long. Tour ends. Memories linger.
Price -
Rs. 1,90,000.00 /- including all taxes for two adults
Destination
Cochin
Alappuzha
Kumarakom
Hotel
Le Meridien
Premium Air conditioned Houseboat
Kumarakom Lake Resort
Meal Plan
All Meals
All Meals
All Meals
The Cost Includes:-
Accommodation in each destination with all meals according to the above table.
One hour rejuvenating ayurvedic massage per person during the stay for any one day among 2 days at Kumarakom Lake Resort
One hour rejuvenating ayurvedic massage per person during the stay for any one day among 2 days at Le Meridien
Guided sightseeing tour in Cochin. ( Repetition )
All transportation in a Toyotta innova
Vehicle at disposal as per the itinerary from day1 to day 6
Mineral water( 2nos ) , Soft drinks( 2 nos ) , snacks during the travelling time in vehicle on each days.
Above rates are valid till 31 Mar 2020 (Except 15 Dec 2019 to 15 Jan 2020)